In 1866, the Milwaukee Archdiocese donated a plot of land in the southern end of Calvary cemetery for the burial of two dozen Catholic Civil War veterans. Ten years later the section was enlarged to eventually include 690 Civil War veterans.  Among them was William John Sheehy of the Missouri Battery K, 1st Regiment, Light Artillery.  When his headstone was placed initially on his grave the top was rounded indicating that he fought on the Union side. In 1906 Congress marked Confederate soldiers, who died in federal hospitals or prisons, with a peaked headstone. Apparently, local officials assumed that Sheehy (misspelled on the tombstone and appears like Shefhey) was a Confederate soldier and his headstone was peaked.
A hundred years later in July of 2016, Sy Kreilein of the Friends of Calvary Cemetery, noticed that his headstone had been rounded.  His research discovered that his Muster Roll from 1861 to 1865 definitely placed him on the Union side.  Apparently in 2013, the Department of Veterans Affairs National Cemetery Administration in Washington, D.C., following a detailed survey of  the Wood Cemetery, including Calvary Cemetery, noticed that Sheehy had been incorrectly given Confederate status.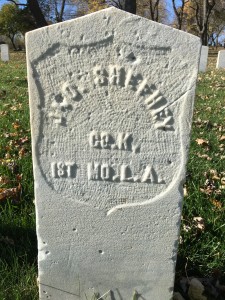 His marker was removed and taken to the Abraham Lincoln National Cemetery in Illinois where the peak was rounded and smoothed again.  Maybe now William John Sheehy can rest in peace with the rest of his Union companions at Calvary Cemetery.
Read the Milwaukee Journal/Sentinel article on the William John Sheehy headstone